DO NOT USE ANY WALKIE-TALKIE WITHOUT LICENCE. Now we are going to talk about License Information Walkie-Talkie in bd 2020
Any Private organization can use Walkie-Talkie Legally. Only BTRC can issue License for Walkie-Talkie.
To get License very easy. No need service charge for License.
Require Papers for License:
1. Trade License copy
2. Up-to-date Income Tax Certificate copy
3. NID Copy.
4. We will provide others papers like as Catalogue, Frequency Form etc..
To get License from BTRC need approx. 30-45 days.
BTRC issue 2 types License for 2 way Radio : ( License Information Walkie-Talkie in bd 2020 )
Individual Frequency Licensefor Govt., Semi-govt., Airlines etc.
It is one frequency for one channel. User can choose any Brand any Model Walkie-Talkie. License Fee around Taka 4,500.00 per set per year. (License fee depend on Output Power and allotted Frequency).
SBR (Short Business Radio) frequency Licensefor Private Organization.
It is 80 Frequency for 80 Channels. User can choose any channel from 80 channels. But user must be use any COLOUR walkie-talkie set. BTRC do not allow BLACKcolour for Private Organization. License fee Taka 690.00 per set per year.
BTRC File processing Fee & Frequency Form: Total Tk. 6,325.00 (one time only) for any quantity. This amount need with Application by Pay-order.
This License for Short Range use. This call 2 way Radio. That means Handset to Handset Talking. No need Repeater, no need Outdoor Antenna.
To see LAW of illegal Walki-Talkie user, Click here
অবৈধ ওয়াকি-টকি বাবহারের শাস্তি ১০ বৎসর- এর জেল ও ৩ কোটি টাকা জরিমানা, আইনটি দেখতে এখানে ক্লিক করুন।
BTRC Published Advertisement about illegal Walkie-Talkie and others Radio equipment's are below: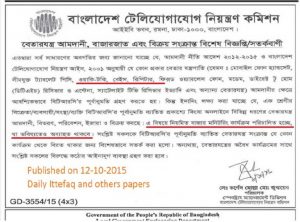 visit our store : click here